Betafolio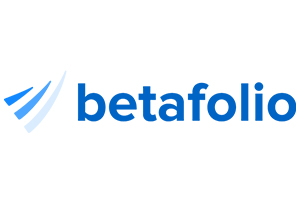 Introduction
Betafolio is the UK's premier turnkey asset management provider (TAMP), offering: a flat-fee, low-cost, evidence-based, discretionary model portfolio service (MPS) exclusive to financial planning firms.
We use technology to cut out unnecessary costs, inefficiencies and anxiety for advisers, while improving the long term investment returns for their clients. 

Simple, low cost, flat fee: 
We charge a flat fee for discretionary model portfolio management. The typical cost for the underlying funds in the portfolios is 0.3%. This gives clients the best possible chances of meeting their goals, at the least possible cost.
Powered by technology: 
Betafolio Control Centre is our one-stop digital portal for everything you need to manage your centralised investment proposition. This includes investment process documents, performance data and branded portfolio factsheets.
Driven by empirical data: 
We design portfolios that capture capital market returns based on decades of empirical data and research by Nobel-Prize winning economists. We don't chase fads, engage in market-timing and other behaviours that damage returns. 
Put the adviser in control: 
Investment management is a commodity. Financial planning is where the real value to clients lies. That's why we create portfolios that exist only in service of the financial plan. The plan leads, the portfolio follows.
Models
Betafolio Classic
Betafolio ESG
Betafolio Tracker
Betafolio Bespoke
Rebalance schedule
Tolerance based rebalancing
Charges
DFM fee is charged at a flat fee of £239 per client or 0.09% AUM.
Contact
Ed Carey
Legal disclaimer
This publication is for general information only. Aviva takes no responsibility nor accepts any liability for any decisions or actions you take as a result of the information given. This content has not been approved for use with customers. You shouldn't rely on this content in place of legal, regulatory or other professional advice. Content prepared by Aviva is based on Aviva's understanding of the law, regulation and current practice at the date of publication. However, this will change from time to time and changes might not be reflected on this page. Aviva isn't responsible for any of the content in this publication prepared or provided by third parties, nor the accuracy and completeness of that content.