Brown Shipley Private Banking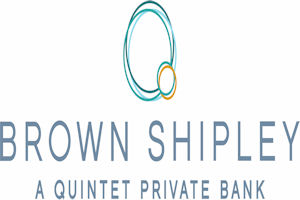 Introduction
Brown Shipley is a private bank, which combines over 200 years of pedigree with informed advice, contemporary vision and trust to deliver a uniquely personal service.
In our words - Wealth well managed: a UK authorised bank with a very strong balance sheet and high capital adequacy ratios, the bank's business has and continues to be managed in a measured and conservative way. In the volatile and challenging markets, this approach means our clients can trust us to act with informed responsibility.
Models
Brown Shipley and Aviva - Solutions well managed
We are pleased to offer a service for advisers who wish to provide their clients with expert investment choices.
Twelve active model investment portfolios (ten risk rated and two income) provide advisers with investment solutions for most client situations.
These are complemented by access, through Aviva, to Brown Shipley approved funds, which offer a focused range of collective investments. Brown Shipley portfolios have been available since June 2010.
The benefits to advisers include:
At its core this discretionary managed service allows you to outsource your investment management whilst still retaining full control over your client's affairs and relationship
The client has their own portfolio, rather than a 'pooled' fund. This means if part of the portfolio needs to be changed it can be done easily without impacting the rest of the portfolio
Ten risk graded models which move from 'Cautious' to 'Equity Aggressive', as well as two dedicated 'Income' portfolios
Highly regarded equity and fixed interest funds along with multi-asset solutions suitable for smaller clients
Managed under the supervision of our Research and Asset Managment team who ensure the same active management principles that apply to our discretionary managed portfolios
Additional benefits:
Versatile - amendable portfolios as circumstances change
Access to online client valuations through secure website
Clear and transparent charges
Rebalance schedule
Monthly in arrears.
Charges
0.36% per annum, including VAT.
Contact details
Michael Pos, CFA
Head of Product and Proposition
Email: ProductandPropositions@brownshipley.co.uk
Tel: 0207 282 3220
Website: www.brownshipley.com
Legal disclaimer
This website is for general information only. Aviva takes no responsibility nor accepts any liability for any decisions or actions you take as a result of the information given. The content on this website has not been approved for use with customers. You shouldn't rely on this content in place of legal, regulatory or other professional advice.

Content prepared by Aviva is based on Aviva's understanding of the law, regulation and current practice at the date of publication. However, this will change from time to time and changes might not be reflected on this page. Aviva isn't responsible for any of the content on this website prepared or provided by third parties, nor the accuracy and completeness of that content.

Third parties are any person other than an Aviva company or Aviva employee. By allowing third parties to publish material on this web page Aviva is not endorsing the contents of that material. Any views expressed are the views of that third party and Aviva does not endorse those views.