Three in five feel stressed about later life planning
Whilst Stress Awareness Week (7-11 November)1 is encouraging best practices for stress-management and wellbeing, Aviva's latest research has found that when it comes to later life planning, more than three in five people (61%) feel stressed when they think about their retirement. This figure rises to almost three quarters (74%) of 25–34-year-olds.
Unsurprisingly, given the current economic climate, all age groups, with the exception of the over 55s, admit to being stressed about: whether or not they will have enough money set aside at retirement to do all the things they want to do (71%); how long their pension pot will last (65%); whether or not they are paying enough into their pension pot (59%); and how early they need to start paying into a pension (49%).
25-34s top the anxiety charts when it comes to retirement planning
In the majority of cases, the most anxious across all age groups are the 25–34-year-olds [see table below] with the starkest contrasts in numbers being around how early they need to start paying into a pension (70% vs 49% nat.avg), whether or not they should have more than one pension pot (70% vs 50%) or if they are paying enough into their pension savings (77% vs 59%).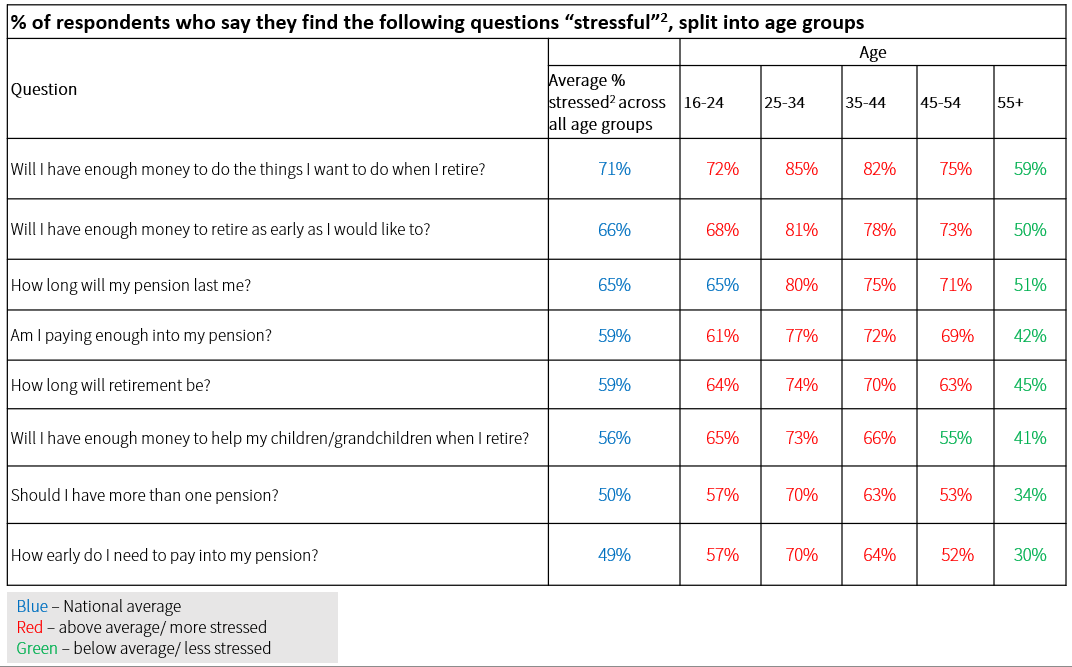 Alistair McQueen, Head of Savings and Retirement at Aviva says, "It's only natural, in a world where most people are worried about things that are beyond your control - the rising cost of living, increasing inflation, and interest rates that haven't been seen for years – that you may also feel out of depth when it comes to things like pensions and later life preparations. However, with a little planning, and simple rules of thumb, you can easily feel more in control of your savings and know if you are on track for the lifestyle you want in your retirement."
Here are our simple steps to share with your clients to help them have greater control over when they retire and with how much money:
1.       How long? Aim to save for retirement at least 40 years before planning to retire.  
2.       How much? Try to save at least 12.5% of salary towards a pension every month – this may seem challenging at the moment, but it is something to aim for.  In a workplace pension employees will get an employer contribution and tax relief that help towards that target.
3.       Final pot size? Aim to amass a pension pot of at least 10 times annual salary by retirement.
4.       Tax relief: Take advantage of the tax relief offered by the government to boost savings. When saving in a pension, for every £8 saved, the tax man adds an extra £2.
5.       Employer contributions: Every employer in the UK must provide eligible employees with a workplace pension. Not only that, but they must contribute to this pension. Some employers will contribute more if employees save more, helping towards the 12.5% target.
6.       Invest wisely: By investing money, in a pension or elsewhere, that money can grow through to the target retirement date.
7.       Investment Risk: The value of investments can go down as well as up and savers may get back less than has been invested but remember that investing in a pension is a long-term investment and over time it could reap greater rewards.
8.       Keep checking: Saving for retirement should not be a "set and forget" activity. Annual pension statements should be used to track retirement targets.
9.       Use free online tools: There are many free online retirement calculators to help savers plan. Aviva's free retirement planner can be seen here:
https://www.retirementtools.aviva.co.uk/myfuture/ShapeMyFuture/LandingPage
10.    Reframe expectations: Life expectancy in retirement could be 20 years or more, so bear in mind how long retirement income might need to last.
11.    Search for lost pensions: There are close to 3m lost pensions in the UK where pension providers/ customers have lost touch with each other, this equates to £26.6bn, or £9,470 per person4. Check with the Pension Tracing Service.
12.    As well as taking control of later life planning, people might want help to manage stress levels and can try mindfulness practices, making sure to get enough good quality sleep, eating well and taking time to reconnect with nature. Spending time with people who give you energy can also be a great way to reduce stress levels.
More than a quarter of people we surveyed (28%) seek support/ guidance with later life planning from their family and friends, rising to almost a half (48%) of 16–24-year-olds. Encouragingly, almost a quarter of those surveyed (23%) turned to their employer or received help and support through their workplace, and 18% say they spoke to a financial adviser.
Methodology:
The research was conducted by Censuswide between 06.10.22 – 10.10.22 from 2,001 general consumers, national representative sample. Censuswide abide by and employ members of the Market Research Society which is based on the ESOMAR principles.
Sources:
1     National Stress Awareness Day was set up by the International Stress Management Association, with the mission of raising awareness of the effects of psychological distress in the workplace and strategies to address it.
2     Stressful = Respondents who selected 'Very stressful' or 'Somewhat stressful'.