Meet the team: Paul Whittaker
Paul Whittaker, an Investment Specialist for our Sales Support team at Aviva, gives us insight into what he does on the day-to-day and how he goes the extra mile to make a positive difference in his work relationships.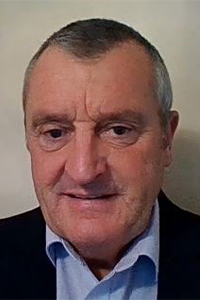 Smoothly does it
I work in the Smooth Managed Fund (SMF) team, as an investment specialist for sales support. Part of my role involves keeping other teams within Aviva up to date on all matters SMF.
As a member of the telephony based team I spend a large part of my day calling people – the telephony bit probably gave you a clue! Our focus is adviser firms, who we both promote and support in their use of SMFs for their clients. We can provide CPD training, give in-depth analysis of both the fund and the markets or send out a Q&A for advisers if they're looking for something that's quick and easy to digest.
The majority of my role is spent talking to people on the phone or via online meetings, but keep your eyes peeled and you might spot us at outdoor seminars or large account meetings too.
Working the phone
My day usually begins with a team catch up (via an online meeting, or the phone of course), where we talk through any successes we've had as well as new ideas for promoting the SMF. Then it's time to start calling advisers. Some calls take longer than others, especially if we're discussing complex products or new opportunities. We respond to leads sent through from the marketing and distribution teams and also generate our own introductions.
An email with attached documents usually follows a call. Sometimes advisers will call us for information or advice, or we might field a BDM-related call which we can forward to the right team. The day will end much as it began – with a review of what's happened during the day, often including an evaluation of both successful and challenging conversations.
Starting over
In 2020 I changed roles from being a highly successful BDM with the top account in the UK, to retraining into the Investment Consultant role. Throw in the impact of Covid and you could say I've had a very turbulent couple of years. However, whilst at times life has been difficult it's also shown me that I can grow and develop, even at this stage of my career. Aviva has been there to give me the support I need, enabling me to become a successful member of team. As with all jobs, there are processes to follow and sometimes one day seems to be much the same as those before it, but that's just the world of work!
Going the extra mile
Quite recently one of our advisers moved his clients to a new company. Their BDM was on holiday at the time but the adviser needed help setting up his agency so he could begin trading with us again. I worked with the accounts team and the Platform Acquisition consultant to ensure the adviser could start using the Platform as soon as possible, without having to wait for the BDM to return. I felt a real sense of achievement in being able to support the adviser, who then transferred his back book onto the Platform using some of the SMF.
For me, what makes the difference is the people – I have strong relationships with my advisers which go beyond business transactions, and I have developed good friendships with team members too. Part of what we offer at Aviva is the personal touch: we treat all our customers as individuals, and that includes advisers too. We understand what they want from us, meaning we can look for ways to give them that extra bit of support other providers might not offer.