Aviva DigiCare+ is a smartphone app that offers a range of interconnected benefits to help individual protection customers take control of their health and wellbeing.
The Coronavirus pandemic has put health at the forefront of people's minds. Many people across the UK are dealing with obesity, diabetes and mental health issues, and can't always access the right support to help manage these conditions. 
For years our protection policies have been giving financial protection to customers and their families should they fall ill or pass away. But we also want to help customers live a happier, healthier life today. 
Easy access to specialist clinicians
That's why we're introducing Aviva DigiCare+. Powered by Square Health, with added-value benefits provided by a number of carefully selected third parties, the app gives your clients a range of complementary health and wellbeing benefits (optional extra benefits may incur a charge).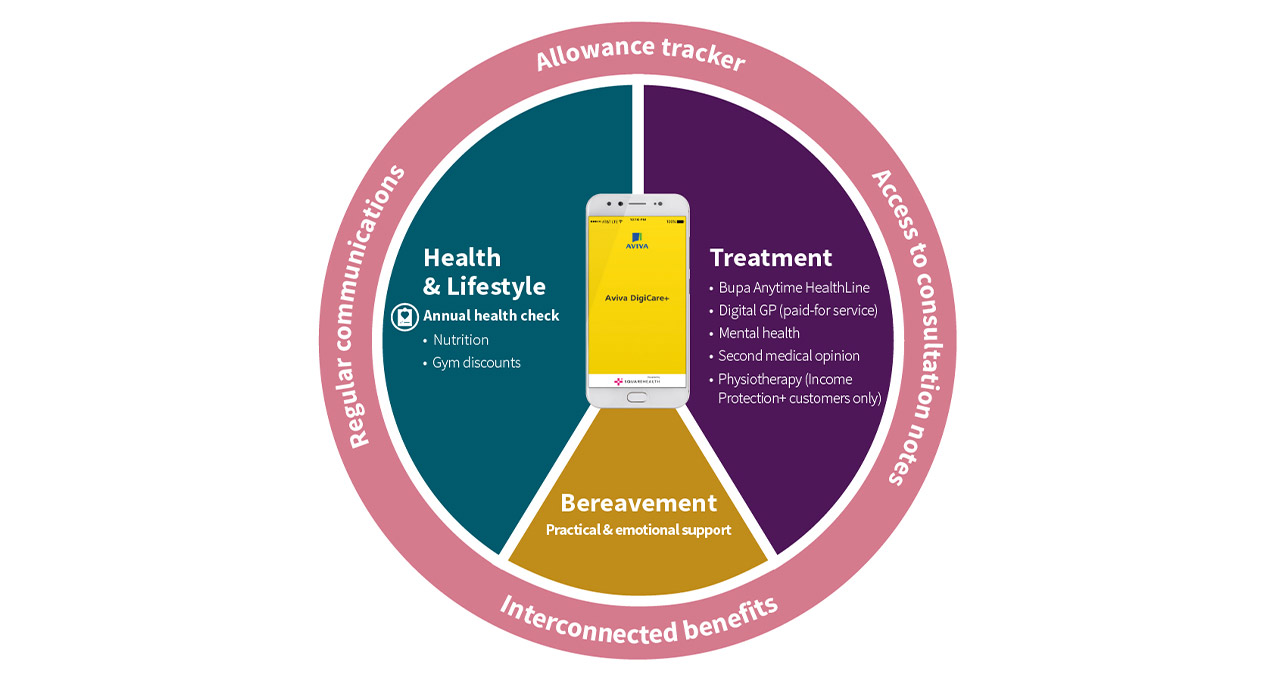 Customers and eligible family members can be  connected with specialist clinicians, nutritionists and psychologists to help them prevent, detect, or manage  health and wellbeing problems. 
Prevention is the best medicine
Aviva DigiCare+ has been developed with customers and advisers in mind. We've focused on benefits that will help encourage customers to prevent and detect illness. 
Following registration on the app, customers will be encouraged to take advantage of an annual clinical health check to help them understand their health status and potentially detect early signs of common health problems. Provided by Square Health, the finger-prick blood test is done at home and returned to a laboratory by freepost. It checks 20 different health markers including diabetes, cholesterol status and liver health and includes a follow-up digital consultation with a qualified GP to discuss their personalised health report.
A broad range of services
In addition to the annual health check, clients can access the following services:
Mental health consultations
Nutrition consultations
Bupa Anytime HealthLine
Second medical opinion
Bereavement support such as estate administration and counselling
Digital GP (optional paid-for service)
Physiotherapy (for Income Protection+ customers)
The clinical services within the app are connected, allowing specialists to signpost customers to other medical expertise, with consultation notes and personal medical details safely stored but easily accessible by customers within the app.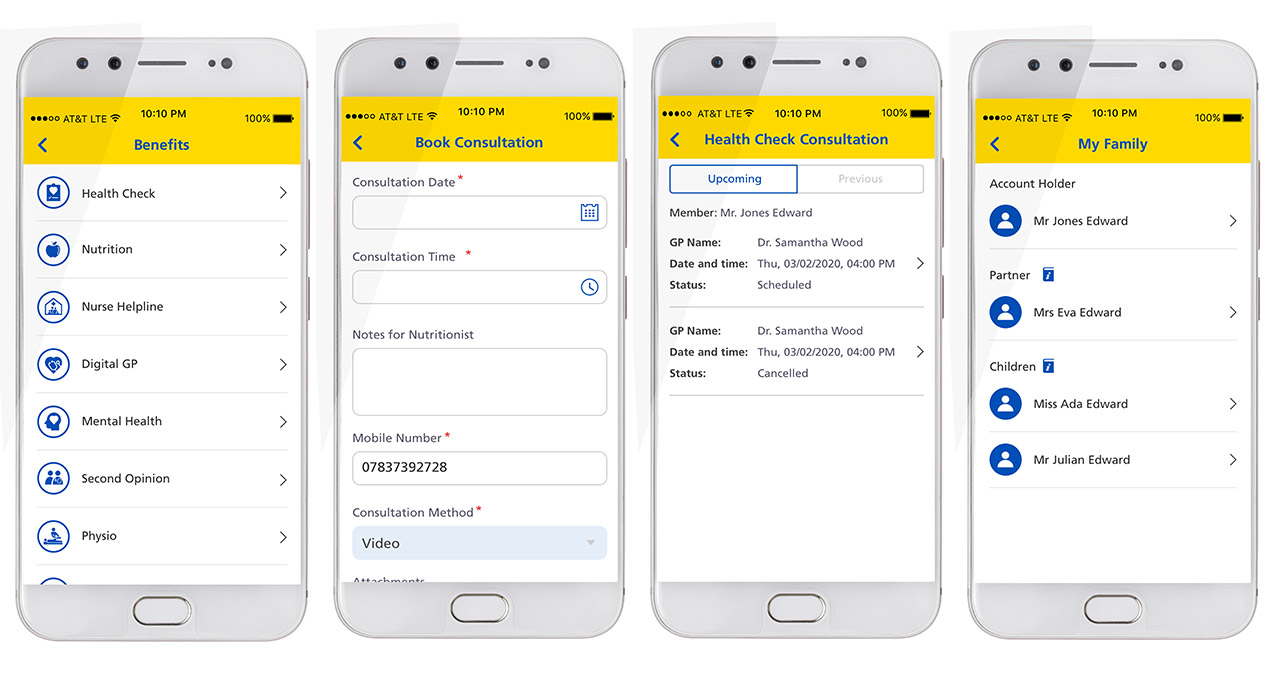 The app provides eligible Aviva customers with a single access point to one of the UK's largest networks of medical specialists, as well as additional benefits.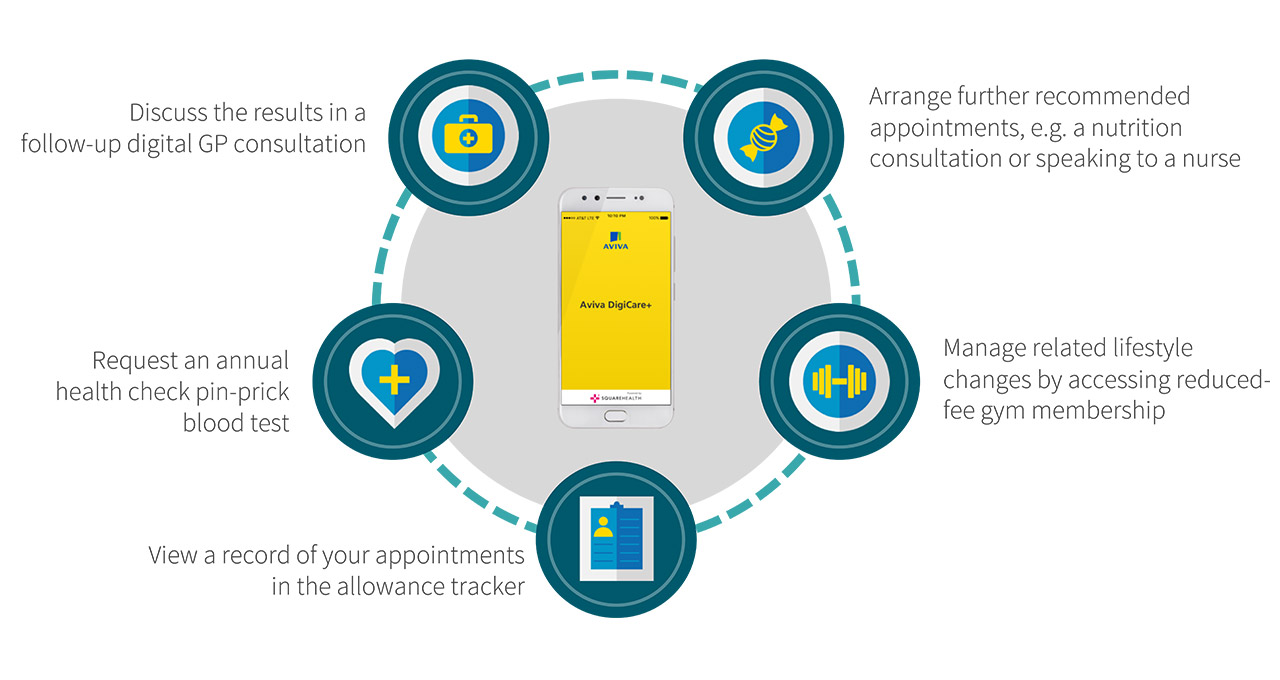 Aviva DigiCare+ is a non-contractual benefit Aviva can withdraw at any time.
Terms and conditions and the privacy policy for Aviva DigiCare+ can be found within the app.
Aviva DigiCare+ is available, at no additional cost, to new customers taking out an Aviva personal protection policy through an adviser (excluding Simple Life Insurance). It's also available to existing customers with a Friends Life policy bought since November 2011, and all Aviva Individual Options and Plus policies bought since January 2015, excluding Business Protection, Relevant Life and Simple Life Insurance.
So find out more and also make sure you provide your customer's email address when they purchase a personal protection policy (excluding Simple Life Insurance) so we can get in touch to tell them all about the great benefits they're entitled to from the day their policy starts.
Discover More:
Customer Video: Introducing Aviva DigiCare+
Aviva DigiCare+ Customer Guide