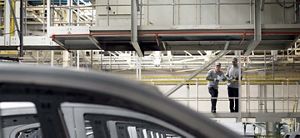 As one of the UK's largest insurers, we have proven technical expertise within the Motor Industry to address the needs and challenges of your clients, today, tomorrow and in the future.

Tailored Insurance Solutions
A modular, flexible approach allowing the most relevant covers and additional products to be provided to meet your clients' needs, alongside industry-focused covers included as standard.
Fast, fair and reliable claims
Having paid 96% of claims in 2018, Aviva customers receive a level of claims service they can trust, backed by the provision of dual remedies and defence excellence.
Specialist industry expertise
Access to dedicated underwriters, as well as risk, claims and client relationship management, with a wealth of experience working with mid-market businesses, and expertise in the sectors in which they operate.
Why Aviva for Motor Industry?
Key Features
Access to locally based underwriters who will act as a focal point to combine relevant covers, products and services
Access to real-time data and predictive analytics, to provide actionable insights in relation to adequacy of coverage to provide your customers with choice and confidence they have the right level of cover should the worst happen
Benefit from access to specialty covers that include Engineering, Accident & Health, Marine, Management Liability, Commercial Crime, Cyber & Legal Expenses
Industry-focused benefits and services included as standard
Fair Presentation of Risk Guarantee available** alongside the provision of dual remedies for innocent non-disclosure
Warranty free policies with a flexible approach to conditions
For larger, complex clients, access to client relationship management to co-ordinate the overall Aviva service*
*subject to risk acceptance, terms and conditions apply
**subject to acceptance criteria
Appetite
Established businesses involved in the sale, repair, service, inspection and testing of motor vehicles, specifically those who deal with cars and vans (not exceeding 7.5t GVW).
Benefits
Our approach ensures that our capabilities, products and services are tailored specifically to the needs of businesses in the Motor Industry to deliver an integrated solution.
Industry-focused cover included as standard:
Reduction in value of customers vehicles - £5,000 any one vehicle, £25,000 any one period
Vehicle recertification costs - £5,000 any one vehicle, £25,000 any one period
Medical expenses - £500 per person
Misfuelling before damage
Psychological intervention - £1,200 any one accident
Physiotherapy - £500 per person
Risk Prevention
A prevention-first philosophy
The provision of customised loss prevention solutions and technology at the point of quote or renewal, benefiting from pre-agreed discounted rates and service level agreements to support the implementation of risk control programmes in your clients business
Complementary access to risk insights, guidance and loss prevention standards
Virtual risk management to provide access to specialist risk expertise on demand to suit your clients' schedules
Resilient repairs up to £100,000 included as standard to provide cover for additional costs incurred for the purpose of improving resiliency of the property insured, following a claim
Claims
A fast, fair and reliable claims service
UK based centres of excellence, with in-house loss adjusting and expert handlers in specific lines of business
Claims handled end-to-end via personal claims manager, available 24/7, 365 days a year
Dedicated Major Incident teams to provide immediate response after an event
Access to customer-level claims trend analysis reporting, to assist management of claims costs and improving life cycles
You can find out more about our claims process by visiting Our Claims Service page.
Long-term partner
We know that a longer-term partnership is the best way to give you and your clients a competitive edge providing stability in an uncertain world, alongside services, to help your clients manage costs.
Access to 3 year long term deals with rate commitments and profit shares, subject to eligibility
Business Support Funding to part, or fully, fund consultancy, loss prevention solutions and technology to improve resiliency and innovate their business
Access to Aviva Businesslaw website that contains a range of how-to business and legal step-by-step tools, including guides, document builders, interactive checklists and videos to help you clients stay on top of employing staff and debts (including debt recovery), as well as providing tools to quickly produce essential business documents such as contracts, policy documents and letters. All alongside access to a complimentary legal advice helpline 0345 300 1899,  available 24 hours a day, 365 days a year
Confidential Counselling Service helpline for you clients employees to help deal with personal issues such as bereavement,  divorce and the threat of violence and bullying at work, available 24 hours a day, 365 days a year on 0117 934 0105
Cross-sell opportunities
Motor Fleet
Cover for 13 vehicles or more.
Group Personal Accident, Sickness & Business Travel
Protects employees against injury and travel related risks.
Engineering Inspection
Solutions for clients across the breadth of commerce and industry.