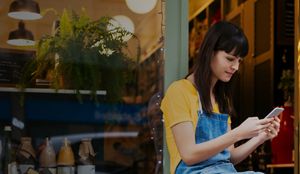 Helping to better protect businesses
To help protect your commercial clients from common risks like escape of water, fire and unwanted entry, Aviva have partnered with security experts SimpliSafe. 
As part of an initial 12-month pilot, your brokerage can offer eligible Aviva commercial policyholders a bundle of smart security devices, worth £332.50 ex VAT, at no cost to their business1. 
SimpliSafe have established themselves in the home security market, combining intuitive technology with market expertise. With over 100,000 commercial customers2, their technology allows businesses to create a smart and secure system. The devices included as part of this offer will help to protect against those most common risks and improving security, helping give your clients peace of mind that their business is looked after.
Base Station
Built with a backup battery in case of a power outage. Just plug in and follow the instructions to start protecting.
Keypad
Use the keypad to set up, control and arm your sensors. Also includes a hidden panic button in case of an emergency.
SimpliCam HD Camera
See what's happening in your premises anytime via your smartphone, tablet or computer.
Two Entry Sensors
Guard against break-ins with sensors that are triggered by the opening of doors and windows.
Two Water Sensors
Detects escape of water and potential flooding, so you can minimise the potential damage.
Temperature Sensor
Triggers when the temperature drops below 5°C so you can prevent pipes from freezing and bursting.
Motion Sensor
Mount in the corner of a room for maximum coverage and it will detect and alert you to any movement across the entire room.  
Smoke Detector
Triggers when a fire's smouldering, emitting loud system-wide sirens to alert you and your employees.
Tell me more
What's in it for me and my client?
For your business
Competitive advantage over those not involved in the pilot - we're currently only working with a select number of brokers. 
Help to attract and win more new business.
Hopefully improve claims ratios, account profitability and retention rates. 
Providing risk management solutions for your client and further evidencing you're a trusted advisor. 
Our recent Broker Barometer research highlighted that 21.82% of brokers have seen an uptake in Risk Management enquiries, and 20.45% relating to Property Insurance.6 This is an opportunity to help support your clients with their ever-changing needs.  
For your clients 
A smart security system at no cost1 -  providing a digital risk management solution and more control over their premises.
Less disruption to their business – we hope the installation and use of these devices will help to prevent or reduce the severity of claims, allowing your clients to focus more on what matters to their business.
SimpliSafe's Pro Premium Professional Monitoring service can help to give your clients additional peace of mind – we'll fund the first two months, then it's £16.66 ex VAT per month thereafter (no minimum contractual commitment).
Ultimately, through the data shared with Aviva from installed devices, we hope to prove that clients who use these devices are a better risk to Aviva – allowing us to differentiate our insurance offering for clients in the future. 
Who's eligible?
New or existing Aviva commercial policyholders with business traded through our regional branches.
Commercial Combined, Motor Trade and Property Owner customers.
For policies less than £25,000 premium.
Clients with multiple premises - for each eligible premise, they'll be entitled to a bundle for each.
For your existing Aviva policyholders, we're automatically identifying those eligible. We'll publish an offer flyer with everything your clients need to know in e-Documents - you'll find this in the Commercial Intelligence Insights folder. Here's a helpful video to showcase the information on the offer flyers and how you can access them in e-Documents.
Are there any exclusions?

Policies where Aviva specify an alarm as a condition of insurance.
Risks in the care segment.
Clients in the Channel Islands, Isle of Man or Scottish Islands.
A word on data
All we ask in return for providing this equipment to your clients is that they agree to install and use all of the devices included in the bundle. 
What data will be shared with Aviva?
The take up of the offer itself
The activation of the devices in the property
Any deactivation of the devices
Any times that the devices issue an alert
Any additional devices purchased (which will be at 30% off RRP) plus any optional monitoring subscription taken out.
Please note, no video footage will be shared with Aviva. All Aviva will receive is an alert to say that the camera detected motion.
Additional peace of mind with professional monitoring
To help provide additional peace of mind, your clients will receive two months complimentary of SimpliSafe's Pro Premium Professional Monitoring service as part of our new telematics proposition.4. 
What's included?
24/7 professional monitoring and dispatch - SimpliSafe will call if there's an alarm and dispatch the police and fire services if necessary or one of their security experts with the Guard Response service5
No phone line needed - the system communicates via WiFi and has a back-up sim in the event of a power outage
Unlimited video recording - see what's happening anytime with HD video and unlimited recording
No contracts - your clients can pause the service anytime – no questions asked
Mobile app - you can use the SimpliSafe app to arm and disarm the system, watch cameras and see the event timeline.
Marketing Documents
As a customer proposition, we need your help to take this to market. To help inform your customers of this exciting opportunity, we've developed a number of marketing materials that you can download and share.
Get in touch
Should you have any questions or queries, please contact your aligned Aviva sales manager or underwriter.

You can also contact us directly on propertytelematics@aviva.com.
1. Aviva are funding the SimpliSafe smart security devices worth £332.50 ex VAT, and two months of the Pro Premium Professional Monitoring service. If your customer wishes to continue the Professional Monitoring service beyond the introductory two months, they will be charged £16.66 ex VAT per month unless they decide to pause or cancel the service. The Pro Premium Professional Monitoring service also offers Guard Response, which is an additional charge if required. If your customer does not wish to opt in to this, they need to let SimpliSafe know.
2. 100,000 business customers as stated on the SimpliSafe Business Security website: https://simplisafe.com/business-security
3. Disclaimer: This Smoke Detector and any associated monitoring service is not a substitute for a commercial-grade fire detection and warning system where this is required. It is your client's responsibility to conduct a fire risk assessment to determine the most appropriate fire detection and warning system for your premises. Depending on the risk assessment and the building regulations in the area, the Smoke Detector may only be suitable for use in tandem with a commercial-grade fire detection and warning system. The Smoke Detector is intended to assist with data capture and (if selected) monitoring services in relation to fire incidents via the monitoring app. 
4. Two months complimentary Professional Monitoring once activated. Your customer will need to enter payment details to active the service. If  your customer does not pause or cancel the service before the end of the complimentary two months, they will be charged £16.66 ex VAT each month until they decide to pause or cancel.
5. Guard Response is an additional charge over and above the £16.66 ex VAT monthly fee for the Pro Premium Professional Monitoring service. If a guard is dispatched to the premise, your customer will be charged £62.50 ex VAT for the first 15 minutes they are at the address. To opt out, your customer will need to notify SimpliSafe on 0800 456 1744.
6. The Broker Barometer uses data taken from a survey of 220 professional brokers across the UK, conducted by Censuswide Research in July 2021, on behalf of Aviva.
The SimpliSafe security equipment and the services provided are not insurance products and are not authorised by the Financial Conduct Authority or the Prudential Regulation Authority