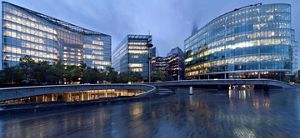 Delivering tailored insurance solutions
The UK mid-market reflects a dynamic and innovative group of businesses, often described as the UK's economic engine. With an ever-changing business landscape, being able to understand and manage new and emerging risks is critical to business success.
Our approach is based on working in partnership, dovetailing your existing capabilities to provide tailored insurance solutions, beyond just protection. Our locally based underwriters combine comprehensive cover with claims and client relationship management and expert risk consultancy. Allowing us to deliver an integrated, service-led proposition that is flexible, future focused and expands expectations of mid-market insurance.
Aviva Mid-Market is designed to meet the needs of UK domiciled businesses up to £250m.
Why Aviva for mid-market?
We recognise that every mid-market business is unique. We look to understand the specific processes and values that make up your clients' businesses to deliver tailored insurance solutions which provide:
Comprehensive cover
Our commercial combined wording offers comprehensive, warranty free coverage across property damage, business interruption, contract works, employers' liability and public & products liability. We continually review our wordings against customer and market challenges providing you and your clients with a level of certainty you can rely upon. 
Whole customer underwriting
The breadth of product range and capability we have allows us to underwrite all your clients' cover requirements. Our expert underwriters leverage data and analytics to undertake real-time assessments of coverage, limits and emerging risks. This, supported by 'ask-it-never' quotations and customised loss prevention solutions, helps us to serve you and your clients more effectively.
Trust and confidence
We can offer a Fair Presentation of Risk Guarantee*, as well as warranty free policies and a fast, fair and reliable claims service. This helps ensure that at the point of claim, you and your clients can have confidence in their cover.
Specialist industry expertise
Our locally based underwriters are experienced in supporting clients across all sectors, with the support of industry experts who truly understand the issues and requirements mid-market businesses face. They are supported by dedicated risk consultants, claims managers and client relationship managers who are focussed on building a service proposition tailored to their needs.
A long-term business partner
In an ever-changing business landscape, a long-term partnership can provide your clients with the stability required to gain a competitive edge. That's why we can offer long term deals with rate commitments and profit shares, subject to eligibility, as part of our proposition. A business partnership that includes business support funding and compliance, technology, legislation and globalisation consultancy, supports the future goals of your clients' business. 
*subject to acceptance criteria
For more information
Please contact your Aviva sales manager or local underwriter.