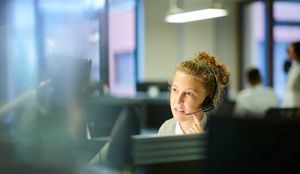 We're here to help
At Aviva we are proud of our claims service.
For more than 320 years we have been there for customers when the unexpected happens.
We work to pay claims fairly and quickly. We also bring our expertise and that of our specialist partners to our customers to put in measures to prevent bad things from happening in the first place.
On this page, you'll be able to find out how to manage existing claims or make a new claim.

Your customer guide to claims
Whether your customer is a corporate organisation or a home insurance customer, we want to ensure they get the right support every step of the way.

Find out what they can expect from us when they need us most. 
Making a claim
Let us know about the claim as soon as possible
Help us handle your clients' claims quickly by providing as much information as you can. If possible, include third-party details, especially their phone number. After that, your clients' personal claims managers will take care of everything.
Find your claims contact
Speeding up the claims process
Early notification of an incident is really important - you or your client should contact us as soon as an accident or incident has occurred. Please provide as much detail as possible; for example contact details for any other impacted parties, witnesses, photos, diagrams, videos and position of CCTV cameras.
For more information on the importance of early notification for commercial motor incidents, watch our video below.
Once you've made your claim, keep your client's personal claims manager's direct number handy, to save time if you have a query later on.

The information you'll need
Having the right information to hand when making a claim can significantly reduce the time it takes to process it. So here's some help and advice on what we'll ask and the information we'll need from you and your clients, to speed up the claim.
Help for your customers
Want to help your customers protect their home from storm damage? Do they need advice to make winter driving less stressful? Or are your customers simply looking for handy tips to avoid DIY disasters?
Find the answers to these questions and other useful information at www.aviva.co.uk.
Flooding is one of the most common and widespread natural source of damage to properties in the UK. How can you help protect your commercial customers? We've created a new commercial flood guide for your customers which will help them prepare for a flood as well as what to do if a flood is imminent and during a flood.