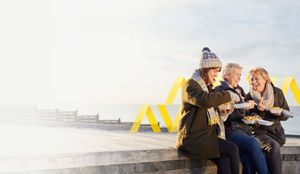 Welcome to our enhanced cancer support for your clients
From diagnosis to treatment and beyond
As a caring organisation, we're always trying to go that extra mile to make your clients' lives easier. Especially true when they are living with cancer. Your clients may experience a whole host of emotions when getting a cancer diagnosis. So, we're here to offer them that little bit of extra support to help them regain control and concentrate on living their life.
Our enhanced support includes:
Dedicated Cancer Claims Team
Understanding, patient and empathetic, our expert claims team offer so much more than just paying your clients' medical bills.
Cancer Care Guide
Co-produced with Macmillan and packed to the brim with useful information and tips, empowering your clients to tackle cancer head on.
Cancer Care with Get Active
Our enhanced wellbeing proposition offers your clients savings on products and services to help make living with cancer that bit easier. This service is a non-contractual benefit Aviva can change or withdraw at any time.
Enhanced support
Enhanced support is available to your individual, SME and large corporate clients covered on an Aviva Private Medical Insurance policy or Healthcare Trust scheme.
Those clients who have opted to remove cancer cover will not have access to the Cancer Care Guide or our dedicated Cancer Claims Team.

Cancer Care with Get Active is available to your individual, SME and Large Corporate clients regardless of their level of cancer cover.

For more information on these enhancements, please read our Intermediary cancer guide (PDF 250KB).
Our cancer offering is just one part of our private healthcare
We have a range of products available for all size organisations, to satisfy all your clients' needs and budgets.
Company products
Private Medical Insurance (PMI) that's designed to help meet a wide range of business needs. Find out more.
Explore company products
Healthcare for individuals
Healthier Solutions is our individual Private Medical Insurance (PMI) product. If quicker access to diagnosis is a priority, Speedy Diagnostics can help. Find out more.
Discover healthcare for individuals
It takes a partnership to make living with cancer easier. It takes Aviva.