How our online medical declarations and consents work
It's important that you make sure that your client is fully informed about how we use their personal data and that you have explicit consent from them before you share any health and lifestyle information.
We're confident that you'll find the online process straightforward for your equity release clients.
How do I deal with consents and health declarations in the Aviva online quote process?
The first screen you'll see in our direct online quote journey is a declaration for you to confirm that you have provided your client with information about how Aviva uses their personal information: their data rights; their explicit consent for you to share their medical information for the purpose of obtaining a quote for a lifetime mortgage; and their rights to withdraw consent. Here it is: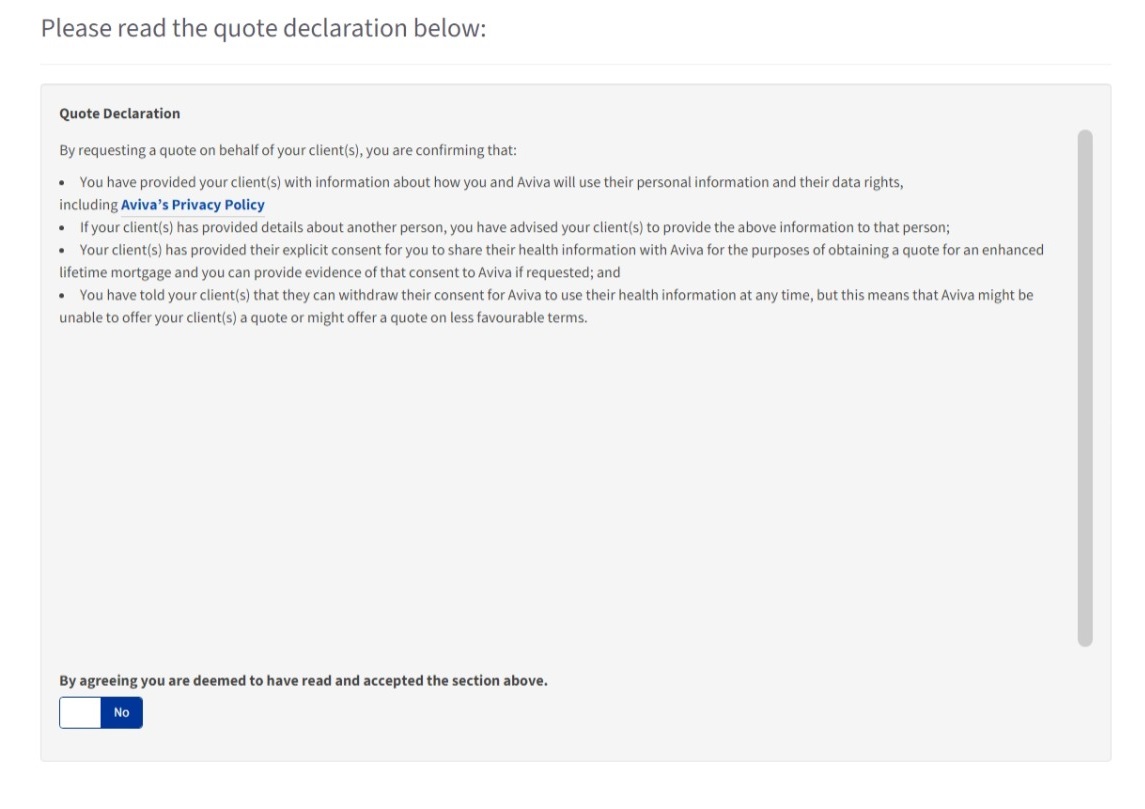 You'll also see that we ask whether your client wishes to provide medical and health information within both the online quote and apply journeys, like so:

When do I click 'Yes'?
When your client has given their explicit consent for you to share their health and lifestyle information. You'll then be shown the list of health and lifestyle questions to answer.
Why is it important to answer the health and lifestyle questions?
We may be able to offer a better interest rate and/or loan to value. We'll save the underwriting decision we've made during the online application for initial borrowing to use when pricing any future requests for additional funds, such as cash reserve releases or additional borrowing . So that's why it's so important to submit this information when getting a quote and during the online application, as we will not ask for it again in the future.
How do I use the Client Declaration in the Online Application for Initial Borrowing?
You must read it out to your client before submitting the application.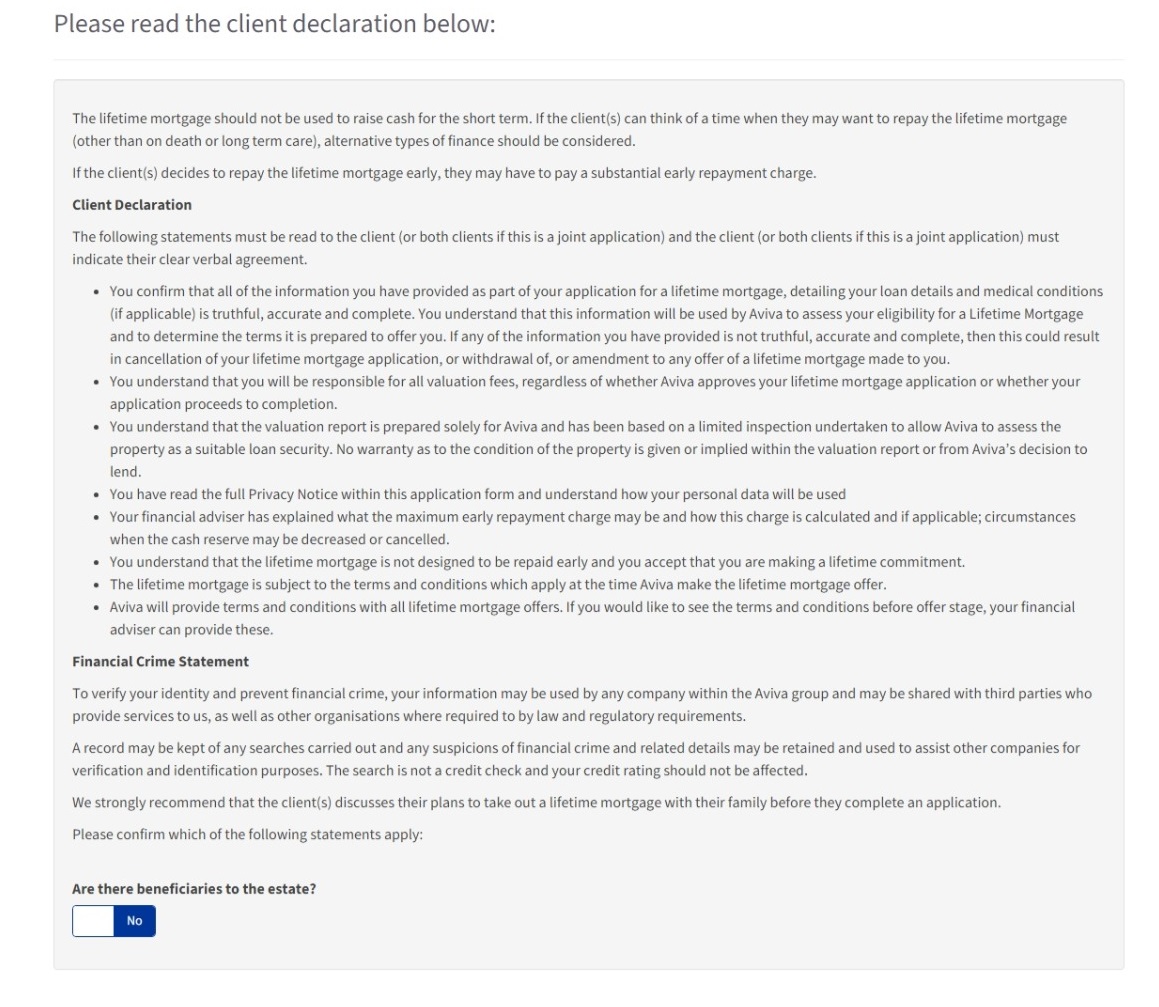 These points are also reiterated in the Adviser Declaration, shown here: 

Why is it important?
It's important from a GDPR (General Data Protection Regulation) perspective to confirm these points with your client before getting a quote or making an application. You must also be able to evidence consent has been given, should you be asked to do so.
What happens when my client gives health and lifestyle information?
If your client wishes to provide health and lifestyle information, then we factor this information into our underwriting decision.  We may be able to offer an enhanced interest rate and/or an enhanced maximum loan amount. If your client(s) decide to go ahead with the application, they may need to provide consent for us to approach their GP to confirm the health and lifestyle information they have given. The client consent is obtained within the online application.
Where can I find the medical consent form?
You can download it at the end of the journey at 'Pre submission' stage within the 'upload supporting documents' section. You will only see the medical consent form if the case has been selected for sampling based on the rules built into the online system. Your client can then sign the consent and you can upload this before submitting the application within the upload supporting documents section.
Can I submit online applications without medical consent?
Yes. If you don't upload a signed medical consent form as part of the application submission and your client has provided an email address, the consent will be emailed to the client to provide an e-signature using docusign. If no email address has been provided we will post the medical consent form to your client and ask them to sign and return. 
How do you deal with difficult cases?
Don't worry. We have many workarounds for different situations:
If an email is returned as undelivered, a customer service representative from Aviva operations team will let you know and discuss whether the email address is correct and/or consider an alternative method of obtaining the signed consent.
If the medical consent is not returned within seven days of the valuation report coming back, we'll send an email to you, asking you to contact the customer to request that the form is returned, in order to progress the application. The application will stop at offer stage until we get the signed medical consent.
If your client(s) has a medical condition that does not appear within the set of health and lifestyle questions, let us know by sending an email to equityreleasefapresales@aviva.com. Please confirm the medical condition and whether there is any ongoing treatment or medication. If you have already started a quote online, please confirm the quote reference number. We'll then look into whether we can offer an enhancement.