EBI Portfolios Ltd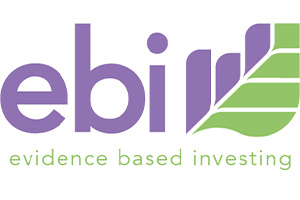 Introduction
ebi specialise in offering evidence based, passively managed, ESG integrated, low-cost investment solutions to financial advisers throughout the UK. As the UK's first Turnkey Asset Management Program (TAMP), ebi provide a suite additional resources aimed at helping advisers communicate the investment proposition to clients.
ebi partner with advisory firms to provide portfolios through their Managed Portfolio Service, Vantage, but also to offer additional support in the form of cashflow modelling tools, portfolio analysis, client ready content and assisting with daily administration tasks.
ebi's Portfolios
Investment Philosophy
Evidence Based Investing – The process of systematically reviewing, appraising and implementing academic research findings to aid the delivery of optimum investment solutions to investors.
ebi's Investment Philosophy is built around the core principal beliefs of;
Diversification works
Risk and reward go hand in hand
investing is a zero-sum game
Obtaining economies of scale
Capitalism works
emaining understandable and simple
Tolerance-Based Rebalancing
ebi operates an optimized 'tolerance-based' rebalancing service, aiming to minimise the frequency of rebalancing and the volume of trades, thus reducing the cost of rebalancing and improving portfolio performance.
Earth Portfolios
ebi are committed to responsible investing and to upholding their pledge and obligations as signatories to the United Nations Global Compact (UNGC) and as such, incorporate Environmental, Social and Governance (ESG) screened funds wherever possible within their portfolios. 
Charges
ebi's DIM fee is 0.12% and the OCF of each portfolio ranges from 0.09% - 0.34%.
Contact details
For more information on accessing ebi's Managed Portfolio Service, please contact your Aviva regional sales manager, or ebi's Client Relations team on:
Phone - 01922 472226
Email - enquiries@ebip.co.uk
Web - www.ebip.co.uk
Legal notice

This website is for general information only. Aviva takes no responsibility nor accepts any liability for any decisions or actions you take as a result of the information given. The content on this website has not been approved for use with customers. You shouldn't rely on this content in place of legal, regulatory or other professional advice.

Content prepared by Aviva is based on Aviva's understanding of the law, regulation and current practice at the date of publication. However, this will change from time to time and changes might not be reflected on this page. Aviva isn't responsible for any of the content on this website prepared or provided by third parties, nor the accuracy and completeness of that content.

Third parties are any person other than an Aviva company or Aviva employee. By allowing third parties to publish material on this web page Aviva is not endorsing the contents of that material. Any views expressed are the views of that third party and Aviva does not endorse those views.