Waverton Investment Management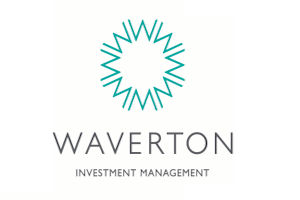 Introduction
Waverton is an independent investment management house dedicated to providing high quality investment outcomes through bespoke discretionary portfolios and a platform based portfolio service. We are single minded in our approach and only provide investment management services - dovetailing with the financial and tax planning advice provided by financial planners. Founded in 1986, the headcount of the firm today stands at over 120 members of staff, of which a quarter are portfolio managers with responsibility for over £5.2bn of assets.
Models
We manage portfolios across the risk spectrum, from conservative through to growth portfolios. Our platform based Portfolio Service is available exclusively to clients of financial advisers to provide a cost effective and efficient means of investment. Our approach of using four specialist Waverton OEIC Funds as the 'building blocks' of our portfolios provides the best of both worlds - the simplicity and ease of a platform based portfolio with the sophistication and investment range of a fully discretionary portfolio. It also has important portfolio construction and cost benefits.
We currently offer five model portfolios:
|  Model portfolio |  Indicative long term return |
| --- | --- |
| Waverton Growth | CPI+3.5% |
| Waverton Balanced | CPI+3.0% |
| Waverton Cautious | CPI+2.5% |
| Waverton Defensive | CPI+2.0% |
| Waverton Conservative | CPI+1.5% |
Rebalance schedule
The Waverton Asset Allocation Committee meet every six weeks and a rebalance at asset allocation level may follow that meeting if a change in asset allocation is recommended by the Committee.
The portfolio manager may also decide to rebalance the asset allocation on an ad hoc basis to bring the asset class weightings to the Waverton recommended levels.  This will be on an occasional basis and may follow, for example, a period of strong equity markets which have driven our equity weightings significantly above the level recommended by the Waverton Asset allocation Committee.
In terms of the underlying holdings, these are held within the four OEIC structure and are constantly reviewed and, where necessary, sold or rebalanced according to the Waverton outlook and our judgement of the prospects for the underlying holding.
Charges
The Waverton annual management charge (AMC) is 0.4% per annum. This is not subject to VAT.
Contact details
Mark Barrington:

020 7484 2058
Legal disclaimer
This website is for general information only. Aviva takes no responsibility nor accepts any liability for any decisions or actions you take as a result of the information given. The content on this website has not been approved for use with customers. You shouldn't rely on this content in place of legal, regulatory or other professional advice.

Content prepared by Aviva is based on Aviva's understanding of the law, regulation and current practice at the date of publication. However, this will change from time to time and changes might not be reflected on this page. Aviva isn't responsible for any of the content on this website prepared or provided by third parties, nor the accuracy and completeness of that content.

Third parties are any person other than an Aviva company or Aviva employee. By allowing third parties to publish material on this web page Aviva is not endorsing the contents of that material. Any views expressed are the views of that third party and Aviva does not endorse those views.