Will the cost of living crisis lead to an increase in intergenerational wealth planning?
The cost of living crisis shows no sign of easing and it's affecting everyone, from young professionals, to families, to those approaching retirement. Although very few are immune to the effects of increased inflation and interest rates, there is a difference in how the cost of living crisis is affecting different generations. 
Younger generations under pressure
Aviva's latest Age of Ambiguity report shows that the younger generations are carrying more financial anxiety than the older demographics, with 73% of Millennials and 69% of Gen Z feeling anxious when dealing with their finances compared to 49% of Gen X and 36% of Baby Boomers.
Some are adopting a head-in-the-sand approach, with 60% of the Gen Z and millennial generations (aged 18-41) consciously avoiding examining their finances because they feel their affairs are already out of their control. One in five independently-living adults are also seriously considering moving back home to live with their parents, whilst a third of employees feeling they are just getting by financially.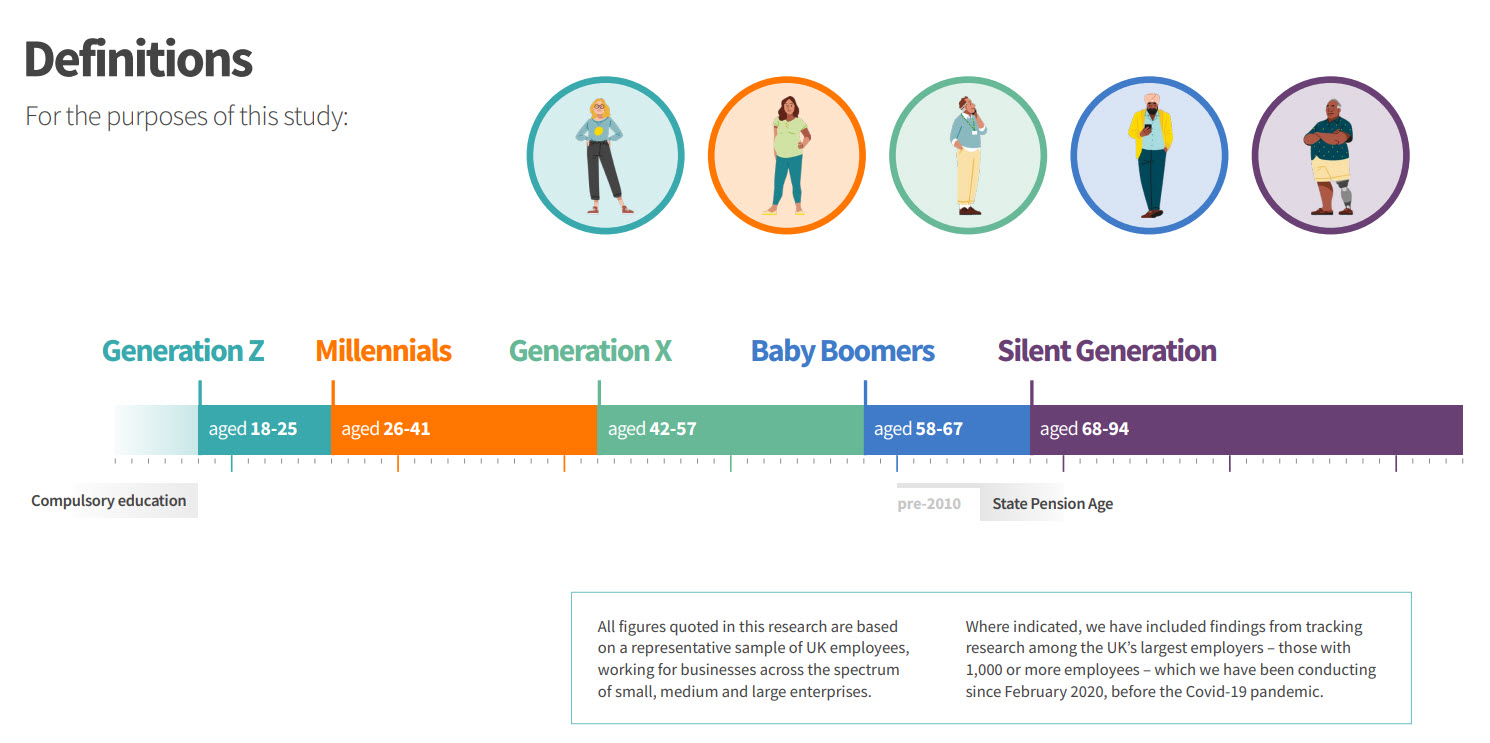 Bridging the generational gap
Research shows that over half of UK advisers don't have a relationship with their current clients' beneficiaries, many of whom are likely to be in younger demographics and could benefit the most from financial advice in the current climate.  Younger clients are more likely to look for advice on social media sites because of the lack of affordable financial advice, so this provides an opportunity to not just stop the advice gap widening but help the next generation of advisers in your business build their client book.
Research shows that over the next thirty years, an estimated £5.5 trillion is due to be passed from one generation to another in the UK [1].
Alistair McQueen, head of savings and retirement at Aviva said, "£5.5trn represents a movement of about a third of all private wealth in the UK (2). It's massive. The transfer of this wealth will shape the financial wellbeing of millions of people. Financial advisers are expertly placed to ensure this transfer is a success."
Aviva's research also found that currently 49% of parents with adult children are more worried about their offspring's finances than their own. This gives advisers a unique opening to broach this topic with your clients. If your clients are themselves financially comfortable, why not use your knowledge of your client and their family to ask leader questions, such as "how are your grandchildren doing at university?", or "how is your daughter doing in her job?" And look for opportunities to offer to do a financial plan, for example.
Connecting with the next generation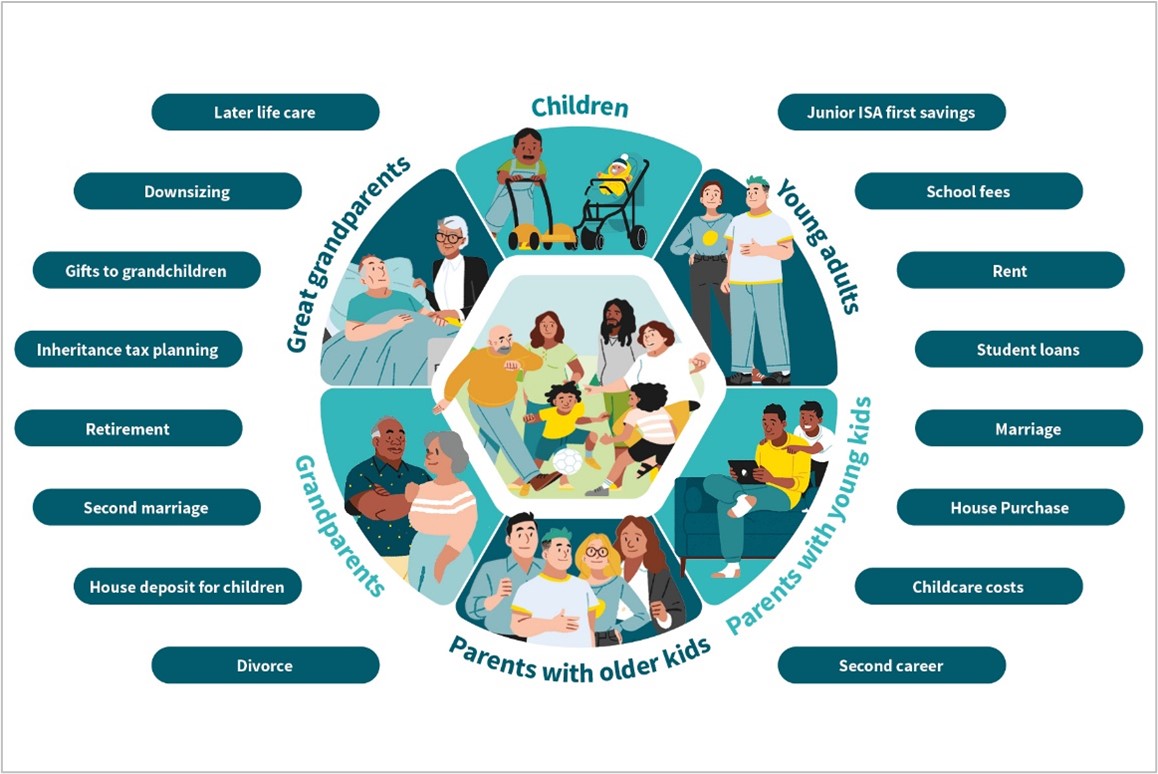 There are a number of ways you can introduce yourself to the next generation of potential clients. Word of mouth has proven to be a very successful of expanding your contacts list – if a friend or relative recommends a financial adviser, their word is more likely to be trusted than a slick (and expensive) advertising campaign.
Aviva Business Development Manager Paul Whittaker has over 30 year's experience in the industry. Having formerly been a financial adviser himself, Paul shares his tips for generating those recommendations:
Ask your clients if they've considered helping younger relatives financially, especially if they plan to leave gifts in a will.
If your clients have concerns about any of their relatives, offer to have a brief, informal chat with them via phone or video call, for a one-off fixed fee, or even for free. Use that time to get a clearer understanding of the relatives' needs and concerns, giving you the opportunity to offer a number of options regarding your services.
If your clients want to help out their relatives financially, set up a meeting with everyone to discuss options. Your clients' family members will be able to see for themselves the service you give your clients. It's also a good way to ensure everyone is aware of the benefits and risks of intergenerational gifting.
Sharing the wealth across generations
The tradition of passing wealth to the next generation on death is increasingly becoming outdated. Whether for IHT purposes or the enjoyment of gifting. Many clients may be keen to help their offspring buy their first home, a grandchild looking to fund university or older children facing their own shortfalls in their retirement provisions. Aviva has a range of articles available to help support you and your clients in these conversations:
·         IHT Planning for those with cash: Access to original capital required: the role of Loan Trusts
·         The Essence and Importance of Intergenerational Financial Planning
·         Aviva Adviser: Can a living inheritance via equity release help younger generations gain home ownership?
·         Aviva Adviser: The 'feel good' value of lifetime giving 
The latest wave of research for Age of Ambiguity was carried out in June 2022
[1] Wealth Transfer | Kings Court Trust (kctrust.co.uk)
[2] ONS Wealth & Assets Survey 2022, Table 2.1