Our partnership with Macmillan
Our partnership with Macmillan is here to support both you and your clients impacted by cancer. 
We know that a cancer diagnosis can be life-changing in many ways, including financially. 83% of people with cancer in the UK experience some sort of financial impact from their diagnosis and more than one in three people are severely financially impacted (Macmillan/Truth Survey, February 2020).
Read Macmillan's press release: Cancer charity sees patients resort to selling possessions and even using loan sharks to make ends meet as cost of living crisis continues to spiral, which further highlights the financial effects of being diganosed with cancer. 
Macmillan Cancer Support/Truth survey of 1,329 adults who have received a cancer diagnosis. Fieldwork was undertaken between 13th January and 7th February 2020. The survey was carried out online. Sample is weighted to represent national population of people who have received a cancer disagnosis in terms of demographics (age, gender, region) and cancer type/time since diagnosis using prevalence data. The  research shows that 83% of people with cancer in the UK experience some kind of financial impact of cancer, and for those affected, the average monthly amount at their most financially challenging time is £891. This is a weighted average, taking into account both loss of income and increased costs. Please note this research pre-dates both the Covid-19 pandemic and the current cost of living crisis, both of which have further increased financial pressures on many people with cancer. 
How working with Macmillan could help us provide a quicker claims process
Did you know that, by working with Macmillan Clinical Nurse Specialists, we can help to speed up individual protection claim payments for some critical illness customers who have a cancer diagnosis?
Here's what happens when a client with a Macmillan Clinical Nurse Specialist submits a critical illness claim: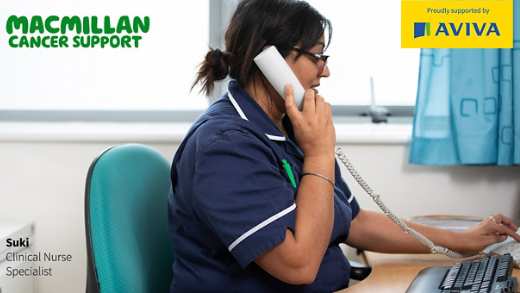 The claims process
The claims handler contacts the Macmillan Clinical Nurse Specialist
In many cases, they can verify the diagnosis quickly without having to wait for medical reports
If no medical report is needed, the claim is then processed, reducing waits from up to 60 days down to just 24 hours in some cases.
A faster claims process is just the beginning of this great partnership.
Training and support
We'll provide training to help you understand the financial impact of a cancer diagnosis, making it easier to educate your clients about the need for protection.
We'll tell you about Macmillan's extensive range of support services and how you can signpost them to your clients. 
And you'll have access to learning events hosted by Macmillan.  
Macmillan resources to support your clients
Macmillan provide so much information and support for people impacted by cancer. You can tell your clients about the huge range of services available to them:

Physical support: understanding treatment options, dealing with side effects, eating healthily and keeping active
Emotional support: a wealth of online, phone, email and face to face support for anyone impacted by cancer, at diagnosis and beyond
Financial support: help with everything from welfare advice and grants to specialist advice
Practical help: help with the day to day things that can be hard during cancer treatment
Help with work: support to cope with the impact a cancer diagnosis may have on work
Online community: groups, blogs, 'Ask an Expert'. 24-hour support in a safe environment
Macmillan Nurses: what they do and how they can help
Coronavirus guidance: the latest guidance about Covid-19 for people with cancer 
Please be aware that the film below depicts cancer experiences which some people may find difficult to watch

Useful Macmillan booklets
Contact Macmillan Cancer Support
For specific questions about symptoms or treatment, or to lend an understanding ear, Macmillan are just a call, email or online chat away.
Call 0808 239 9041  

Lines open 7 days a week, 8am-8pm. Please note that all conversations with Macmillan Support Line advisers are confidential, but may be recorded for quality and training purposes.